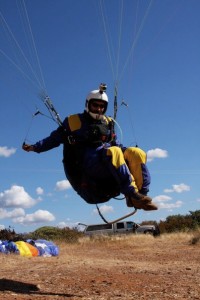 Air Addict Paragliding has been providing paragliding instruction in the Northern California region since 2005. Lead instructor Jason Shapiro is certified to instruct both free flight and powered paragliding. Our courses are available to all levels, from 'brand new to the sport' to experienced pilots working on tandem and instructor ratings. Certified by both the USHPA and ASC, current instructor's ratings held are:
Free Flight (non powered)
USHPA #83908
Advanced Instructor, Tandem Instructor, Tandem Administrator
Powered Paragliding (PPG)
ASC #BCA0012534 Advanced Flight Instructor
Air Addict Paragliding has maintained very high standards for customer satisfaction and safety. While there is much work involved in developing the necessary skills to fly safely, we don't forget that this is also about personal enjoyment. So, be prepared to work AND have fun!
Our Location
While we are most often at our training sites, our physical office location is at the Auburn Municipal Airport in Auburn, CA.
13626 New Airport Road
Suite #104
Auburn, CA 95602
Our hours of operation vary. If you would like to schedule a time to visit our office, please feel free to call 530-306-1082.